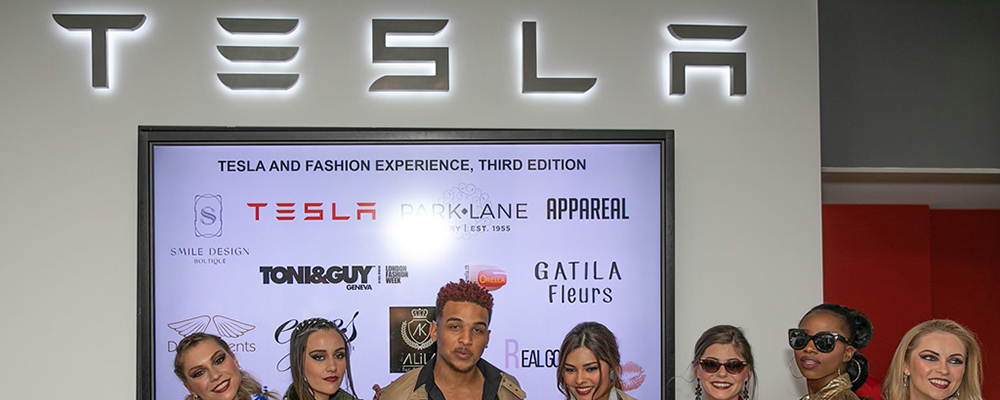 Défilé Events – ASmallWorld (ASW) production presents: Tesla and Fashion Show Experience, 3rd edition
Geneva is never far from putting on a show of artistic activities: on behalf of ASW, Izabela Zofia Switon-Kulinska of Défilé Events masterfully orchestrated the third edition of the "Tesla and Fashion Show Experience" in the evening of Friday, 10 May 2019, in a gorgeous space filled with remarkable electric cars exhibited by the renowned and future-minded Tesla company. It was truly a fashionable event with a combination of enthusiastic guests, magnificent flower arrangements, delightful drinks, delicious delicacies and above all – a catwalk wonderfully executed by beautiful models. Alila's Summer/Spring Collection 2019 presented a leather collection brought to the stage by models wearing elegant and feminine shorts pants, jackets and blazers hinted at, and accentuated, well-formed curves. Unusual and colourful bags completed the ensembles. This as a nice counterpoint to the sensitivity of the urban style.


Olesya Nazarova with her brand "APPAREAL" then explored a discreet and fluid expression of elegance that felt fresh and liberating. Her models wore dresses with subtle colors, sober in pastel tones and relaxed in power that somewhat also revealed a trend of fresh and elegant beauty.
Mary Kay was represented by the consultant Lina Spilsbury, who exhibited avast range of cosmetology products.
Geneva is a place that is successfully exploring current and future fashion trends, and fashion creators are inspired by traditional craftsmanship and precise finishes creating a mix of prints and colors, but the goal is to seduce with styles, with the accent put on "assertive" and "refined" that convey on women a beautiful look.
The public in Tesla also used fashion as a great tool to express themselves and I think that's what designers want to do with their designs: they want to give emotion to the night. The photographers
Aline Caron Leivas Leite for ASW and Manira Runtz made a collection of pictures worthy of a family fashion album.
Tesla's Guests
Partners: Tesla Motors
TONI & GUY Geneva: Hairstyles
Orella by Sasha Kara: Manicure
Make-up: Realgoodlooks1 by Ellie
Mary Kay represented by Lina Spilsbury
Eyes Magazine
Flowers by Gatila-Fleurs
IQOS and under Cave de Geneve
Models:Vanessa Williams, Irma Lake, Christelle Burrus, Laura Marques, AïdaOuro, Claudia Moggiani,David
Influencers: Cesar Calle La Rosa, Marisol Image
DJ: Deba Montana
Photos: Aline Caron LeivasLeite for ASW and ManiraRuntz
Video by Vay Creative