The 19th Odesa Fashion Week was held on March 26 under the slogan:
"We are approaching Victory"
For the second time, the event was held during a full-scale war with the support of the Ukrainian Fashion Association.
It has already been a year of war – an extremely difficult test for our country, for each of us, but we are passing it with honor. This year not only changed us, but also hardened us. We are indomitable, unconquered, courageous and determined. Ukrainians continue to win back their rights and freedom, preserving their identity and culture. The phrase "Unbreakable Ukraine" has become a symbol of the heroism and resilience of the Ukrainian people in the struggle for their independence and territorial integrity. And Ukrainians have become a symbol of the "unbreakable nation", which is united and courageous in difficult times. It is the spirit of unity that drives us to victory. Now more than ever, it's important to rally and support each other. Because support is also a weapon.
During Odesa Fashion Week were presented collections such designers as: AKEL, SUZIE, NATI RUDNITSKAYA, KAPSAMUN Kids, INSTITUTE OF MODERN MADAME, MINNY FOR KIDS, ALNEST, АНТОШКА, MISS DM, ALPACA, OLIVE, KRIZA and MARINA MARIBELLA & LILIAN BEYOND.
AKEL, a revolutionary designer clothing brand for children and adults, presented a collection in patriotic colors that shows respect for the national symbol of Ukraine, as it represents courage, indomitability and the will to win. It is the patriotic spirit that unites us and moves us to victory. Now more than ever, it's important to rally and support each other. Because support is also a weapon. The shoes were presented by one of the largest manufacturers of women's shoes in Ukraine – the Patterns brand. Patterns leather shoes are refined style, proven quality and confidence in every step.
The SUZIE brand presented a collection of elegant dresses, which is presented in a wide selection of designs and colors for any important event. Each dress is made from high quality materials with attention to detail to ensure the ultimate look and wear comfort. SUZIE has something for every princess looking for a stylish and elegant dress for any occasion.
NATI RUDNITSKAYA presented the "Wild and Free" collection – new evening and everyday models. In the wave of news about the transfer of Leopard tanks to the Armed Forces of Ukraine, leopard print is once again in trend in Ukraine and Europe, which inspired the designer to create this collection. People perceive the leopard as a dangerous and quite graceful animal. Bold contrasts and elegant silhouettes, classic colors and luxurious "predatory" prints. A successful combination of elements of minimalist and business style with bohemian glamor allows you to choose a unique outfit for any taste. Free, strong and stylish – this is exactly the designer's vision of the modern Woman within the framework of this extraordinary collection, created with faith in Victory and the European future of Ukraine. The "beast" should not be feared, but you need to find the right approach to it.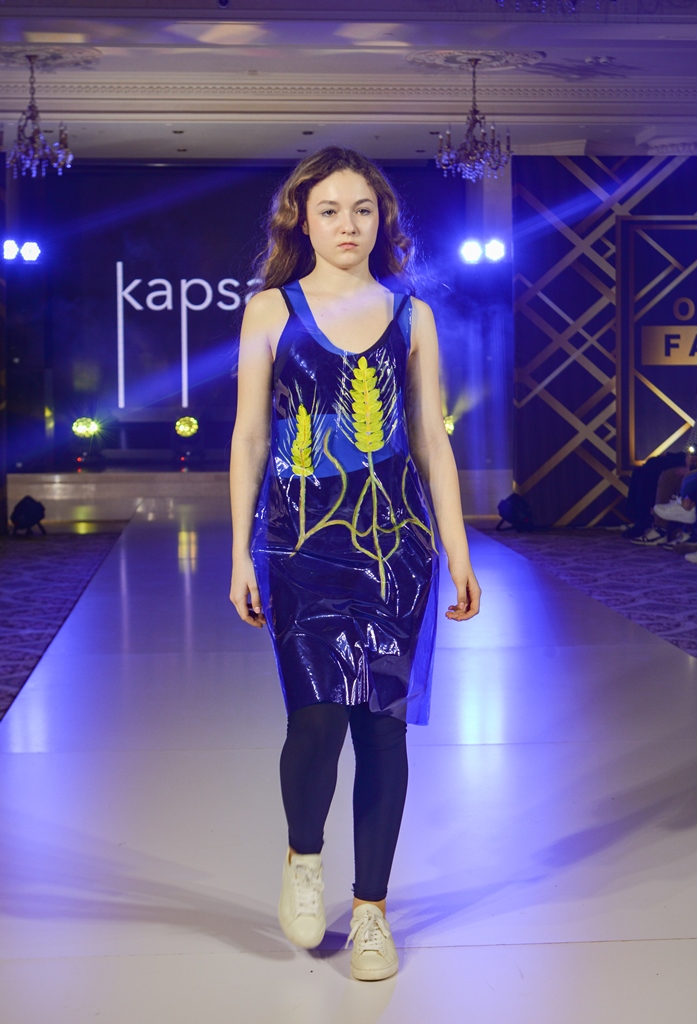 KAPSAMUN presented two brand lines: street style for real Ukrainians and vinyl fashion – a collab with the American brand of Ukrainian origin – DOMDRICH. DOMDRICH supports Ukraine on the way to victory, as well as world-class stars for whom the brand worked: Gigi Hadid, Kim Kardashian, Marvel Studios, Broadway Show, famous music groups and singers. KAPSAMUN is a Ukrainian production that did not stop at such a difficult time for Ukraine. "We stand for Reace: we stayed for peace, our children need peace and a happy future. Together, we rejoice every day, the manifestation of will and do not postpone Ukrainian production in these difficult hours," says the designer of the brand, Maryna Ovcharenko.
Age models of the INSTITUTE OF MODERN MADAME demonstrated the Modern madame collection of the "Golden Shoe" trading house. Bright, elegant outfits, which were collected by the designer Lyudmyla Miadzdel, emphasize the sophistication and charm of modern women. The show was accompanied by saxophone music performed by the talented Odesa musician, the laureate of numerous awards of Ukraine and foreign countries, Vitaly Nepomnyashche.
The brand of children's clothing for girls MINNY FOR KIDS presented a bright and dynamic, comfortable and stylish collection, which is very similar in concept to an adult and made only from high-quality and natural fabrics. The purpose of the brand: to create collections of clothes for girls that reflect the whole world of a child or teenager, a world filled with colors and dreams.
Children's and women's clothing brand ALNEST, born in Lviv, presented a limited collection of designer clothes for stylish everyday life and holidays. "We are convinced that the success of an adult depends on self-confidence. Our team creates and generates new ideas in the world of fashion and implements them in life, so that a small child grows into a confident and stylish personality," says brand designer Veronika.
The Ukrainian brand of exquisite clothes for girls Miss DM presented a medley of its best-selling dresses, which won many hearts of little fashionistas all over the world. The Miss DM brand conquered many Ukrainian and foreign catwalks and was the first from Ukraine to present its collections to buyers around the world at the largest children's fashion exhibition Pitti Bimbo and proved that products made in Ukraine can be stylish, beautiful and high-quality.
For 25 years brand ANTOSHKA has been helping parents raise healthy, smart and fashionable children. So, as part of Odesa Fashion Week, the store presented the new spring-summer 2023 collection of Blukids, Mevis and Flamingo brands.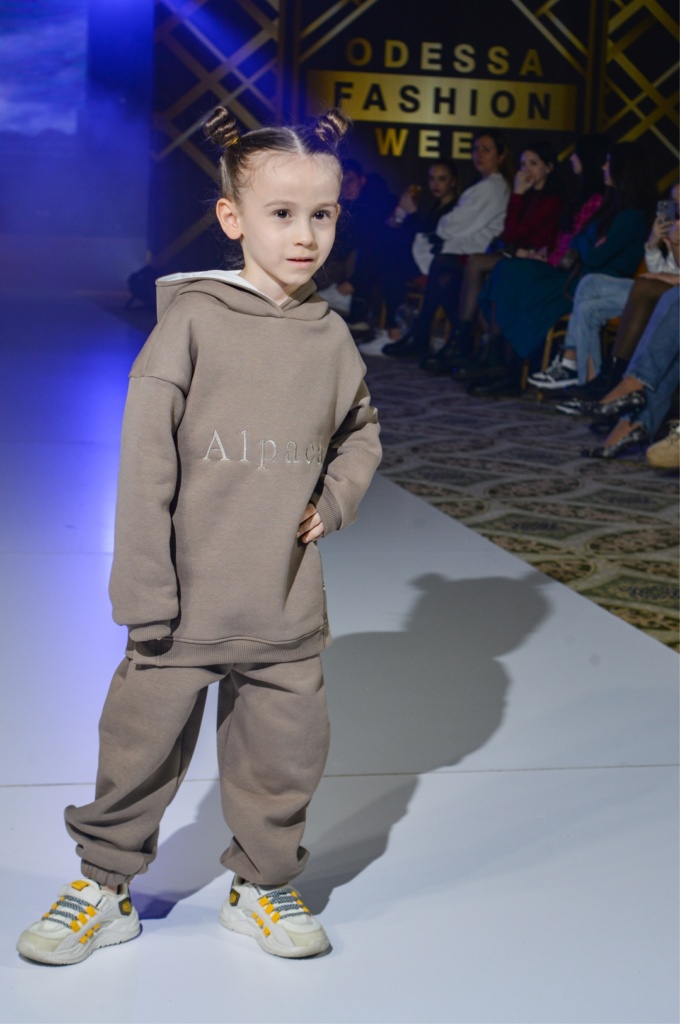 The ALPACA brand demonstrated its unique Elegance and Balance collections, as well as the first children's dress in Ukraine, designed with the help of artificial intelligence. Dozens of flowers that were attached by hand, three craftsmen and forty hours of work from the development of the design to the finished magical dress. ALPACA is a new brand of children's clothing that speaks of the care and comfort of the most important people. Alpaca grows and its philosophy blossoms with it. The purpose of the brand: to create children's fashion in Ukraine and talk about it to the whole world. Do not be afraid of complex decisions, but, on the contrary, be afraid of simple ones.
The Ukrainian women's clothing brand OLIVE, founded by a family of former soldiers in 2022, presented a slightly adventurous style on the catwalk that allows you to look special. It is about strong and confident girls and women. Combination of colors, stylization of Ukrainian symbols, femininity and exclusivity – this is all about the new SPRING'23 collection. Feel stylish and easy with OLIVE.
The KRIZA fashion house presented a unique collection of women's clothing for the spring-summer 2023 season.
The new collection of the brand MARINA MARIBELLA and the jewelry and accessories brand LILIAN BEYOND "Network glamor in the style of Kimono" is the embodiment of femininity, sophistication and luxury in every detail – it sends a woman flying, and any woman. Ordinary women, girls and girls appear on the catwalk wearing clothes from Marina Maribella, which is why it is so easy to imagine these laces on yourself. Lilian Beyond is a Ukrainian designer of unique handmade jewelry and accessories. For more than 7 years, Lilian and her team have been creating unparalleled creations that complement the looks of girls around the world. Be sure that each item, made with love and attention to detail, is filled with unique energy and unique design. The world of Beyond jewelry is beyond the ordinary and everyday.
Special musical guests were: KOVALSKI – an Odesa artist, a participant in the projects "Everybody Dances" 9, "Superstar", "I want to Meladze" and charismatic, stylish, sporty Dj XAOS – an Odesa DJ, who is also actively developing in the fields of modeling, sports and acting skills.
A collection of ASTORY BAGS bags, which are made of eco and natural leather, was presented in the Trade Fashion Zone.
The partner of the event, Ester House PhotoStudio, presented the guests with an outdoor exposition – an authentic space from the very heart of Odesa, within the walls of which an incredible collection of antique objects of antiquity is collected. Guests had the opportunity to immerse themselves in the atmosphere of classic luxury, which served as a place for creating photos.
The highlight of the evening was the presentation of a luxurious cake by confectioner Sweetgrenat Gornostal Natalia – a magician who creates a fairy tale from dough, cream and chocolate. Real masterpieces of art emerge from her hands, which can only be admired.
The event was held with the support of media partners: Ukrainian Fashion magazine, Fashion Star Europe and Odesa Fashion TV, as well as partners of the Backstage zone – Simchenkomakeup School and the Odesa Center of Vocational and Technical Education DSZ.
We are approaching victory – everyone is on their own "front".