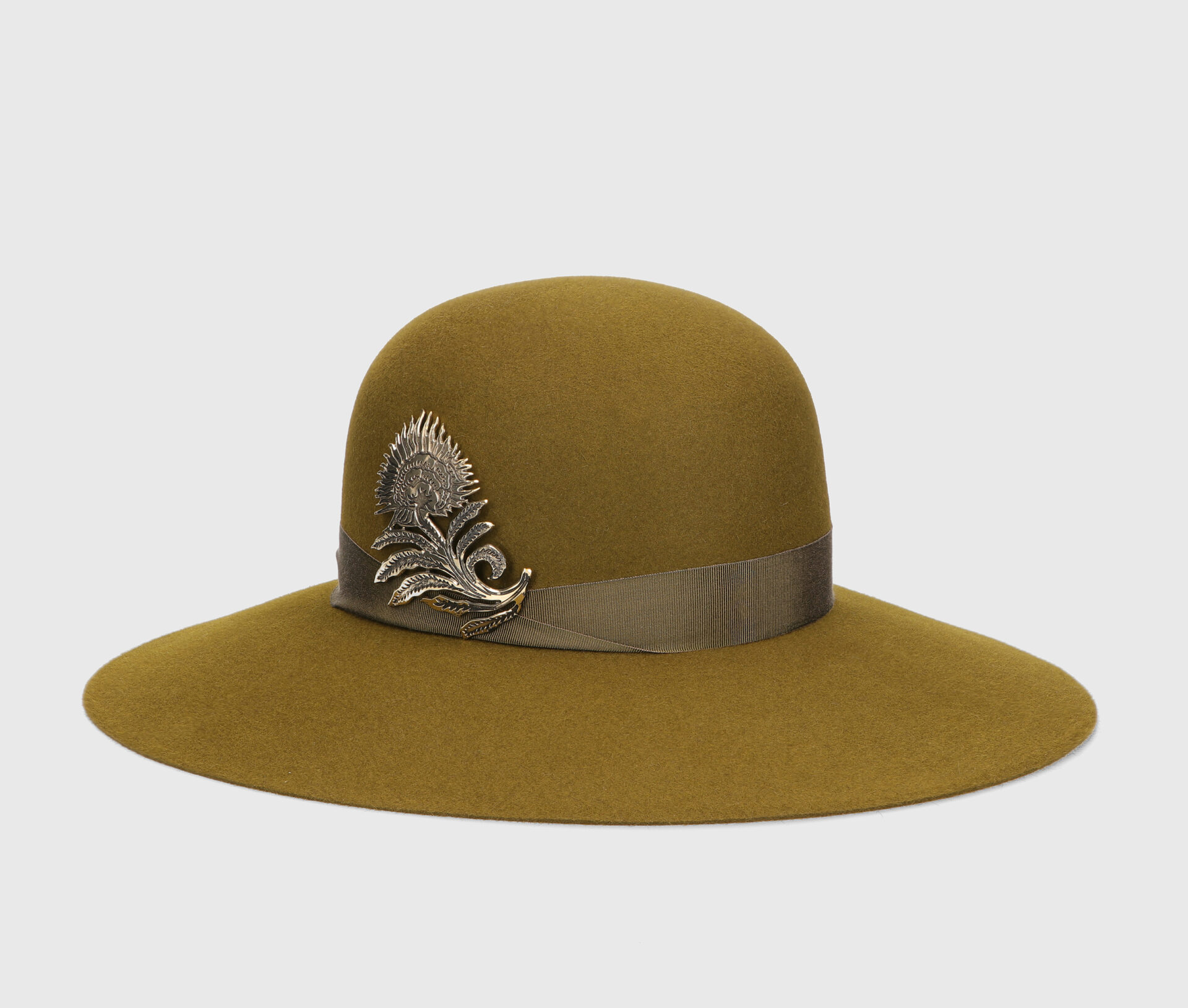 Just in time for the Holiday Season BORSALINO PRESENTS JEWELS FOR THE HEAD. A special 2020 capsule collection with gifted inspiration featuring Hats for Her and Him, Brooches, Medals, and Tiaras
True to the philosophy of Creative Curator Giacomo Santucci, Borsalino launches its unique holiday season capsule collection Jewels for the Head demonstrating a new idea of beauty with celebrated joie de vivre and the infinite décor of personal expression.
Select gift ideas for that special someone (or even for oneself) from an embellished collection of hats with unique brooches, hat pins, medals and tiaras that can also be worn separately. Influenced by the glorious Arts & Crafts design movement and with gifted inspiration, these divine accessories add the signature Borsalino touch while enhancing one's creative individual look. The Maison's 163 years of savoir faire projects into the future by translating its renowned craftsmanship and legendary style into modern and contemporary aesthetics.
The Borsalino Jewels for the Head holiday capsule features six iconic models and archive inspired details. Featured in a timeless array of brushed, shaved, velour or superlight Icaro felts, each piece is revisited with a romantic and sophisticated flair. For Her, hats radiate with lustrous tiaras, medals, brooches or hat pins. For Him, the jeweled medal becomes much more than just an accessory detail, representing new polished style codes that dialogue with design inspiration from the Arts & Crafts movement.
A decorated capsule created for those who like to enrich their personal look with playful and elegant details, these precious jewel-crafted accessories can either embellish a hat or be worn individually.
Don't miss Jewels for the Head by Borsalino Exclusively available in all Borsalino boutiques and on www.borsalino.com
Courtesy of Borsalino Jewels for the Head campaign
Location: Milan Shot.Studio
Photographer: Sandra De Feudis
Video: Riccardo Rolandi
Borsalino Press Office
Via Sant'Andrea 5 – 20121 Milan
+39 02 86463028
IG: @borsalino_world
FB: @BORSALINO