Boglioli Autumn/Winter 2022-23 in Milan Fashion Week
The Inspiration
The man who inspires the FW 22-23 Boglioli collection is contemporary, with deep roots and international horizons.
Protagonist of his time, in which everything flows quickly and borders are thinned. The Boglioli man is irreverent and metropolitan, free from impositions, casual in his way of dressing, charismatic inhis way of acting. The wardrobe designed for him distorts the classic concept of elegance to tell a new concept of Made in Italy, free, cosmopolitan and eclectic by vocation.
The women's collection, created in collaboration with Viviana Volpicella, interprets this concept ofmagnetic personality in a nonchalant capsule, which borrows the masculine codes and combinesthem in refined garments with attention to detail, often oversized, made in the same refined materials of his closet.
Pieces designed for a woman of character, who knows how to reveal her femininity from apparently essential garments, with an impeccable style, with soft and daring combinations and revisited classics to emphasize a fluid and modern style.
The collection
The collection, conceived as a real lifestyle wardrobe, speaks of versatility and is designed to support a dynamic and demanding lifestyle. The classic outerwear is transfigured by creating new, fluid and eclectic concept garments that go far beyond the concept of jacket to embrace that of "outerwear". Hybrid and refined garments, synthesis of functions of use and different styles, without a defined connotation, which lend themselves to personal interpretations based on use or needs. The same garment lends itself to becoming a shirt, jacket or jacket based on the style of each. A vision that has its roots in the profound mastery of classic tailoring and evolves and synthesizes in an essential style, capable of combining innovative materials and impeccable constructions, at the service of a style without impositions, of a character that imposes itself on style.
The materials are warm and precious and restore value to the wool yarns. Selected raw materials, strictly Italian, where natural fibers of the highest quality prevail, sharing the same softness.
Cashmere is the absolute protagonist of the new Boglioli wardrobe, developed in all categories, from jackets to knitwear to shirts, both in solid colors and in sophisticated patterns such as herringbone, prince of wales and hopsack in the richest points. the canvas.
Soft touch is the key-word: fibers such as cotton, cashmere and wool are characterized by extreme lightness. Fabrics such as shetland or flannel are "brushed" with natural thistles, in a manual and artisanal way to obtain a soft and pleasant tactile feeling when in contact with the skin.
The luxury wools in yarn 14, iconic of the Boglioli collection, developed with years of research, offer a cashmere-effect softness and are used both in yarn-dyed and garment-dyed.
The color palette is delicate, warm and pictorial: soft shades of green, blue and gray are accompanied by bright oranges and natural neutrals and black.
Outerwear
Warm and versatile, Boglioli outerwear garments are ideal for an urban style. Classic pieces are reinvented with innovative treatments and new modeling. Light and warm garments thanks to the padding in selected technical materials. Parkas, field jackets, quilts, bombers and huskies are available in various materials such as shetland, flannel, woolen cloths, all of which are «water repellent».
New models of coats with military-derived knitted collars, overs with raglan sleeves and then Saharan jackets, long and short parkas with squeegee and rubber lining that emphasize the details.
Jackets
Jackets break free from traditional patterns and become a key piece of the wardrobe, acquiring new functions of use. The blazer is reinterpreted as an outdoor garment, while the K-jacket in shetland takes on a British allure with wider lapels, linear stitching, a patch pocket, making the country or hunting jacket look more appealing. Jackets with 'standing' collars, without lapels, of military origin reinterpreted in a modern key in a minimal and elegant version.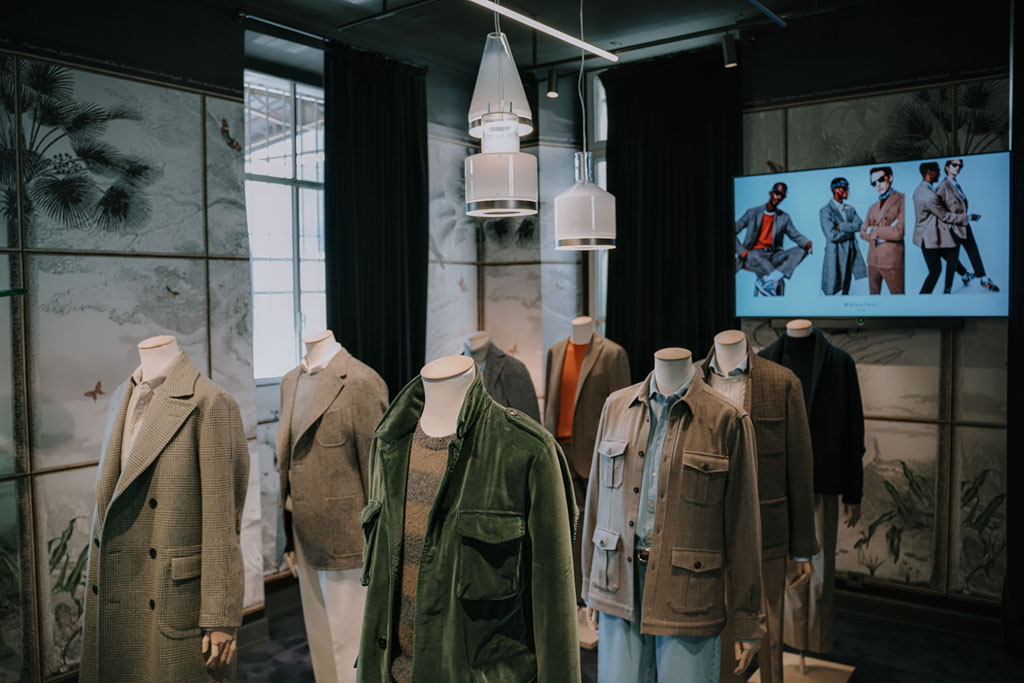 Sustainability and Ethical Fashion
Four Elements is the capsule that celebrates the history and origins of Boglioli, dedicated to a more responsible and aware attitude towards the territory and the environment.
The iconic deconstructed and garment-dyed cashmere K-Jacket, the protagonist of the Boglioli wardrobe for 20 years, becomes 100 percent eco-sustainable. Made of recycled cashmere, obtained by regenerating the fiber through the recycling of production waste and used clothing. cashmere. Yarns that are created using raw materials of indisputable quality, labeled GRS (Global Reciled Standard), the organization that promotes responsible and sustainable development in the textile sector and certifies products obtained from recycled materials and manufacturing activities.
Tintoria Emiliana, a company where garment dyeing is carried out, was one of the first dyeing plants to join the ZDHC organization in Amsterdam, setting new standards for the control of production processes. A sustainable company in an ecological sense means making choices that can lower the environmental impact of its production activities by limiting consumption.