Eclipse on the Nile: Romeo Gigli Spring-Summer 2024
In a dimension beyond time, where the fabric of existence intertwines with the sublime, Alessandro De Benedetti creates a narrative enveloped in an aura of eternal elegance with Romeo Gigli's Spring-Summer 2024 collection, "Eclipse on the Nile."
The 43 pieces of high sartorial craftsmanship unveiled for the new season create a perpetual contrast, boldly blending intense colors and pure fabrics. It is an ode to primordial antiquity and the poetry of the '20s and '30s, as if these elements were stolen from Agatha Christie's tales. However, it remains anchored in contemporaneity through the integration of masculine elements such as men's safari jackets and internally structured blazers using the moulage technique.
Romeo Gigli's knots emerge as indelible signs of the brand's DNA. Delicate silk spirals knot around the arms and adorn the back necklines, evoking magical spells and embodying the asymmetry of contemporary elegance. The purity of the soul is celebrated through the use of fabrics such as raw canvas, Egyptian linen, and handwoven jute. These are pure materials that embrace sustainability as a mantra.
Jute, skillfully transformed into fringes, gives life to jackets and garments crafted with precious manual techniques that tell ancient stories. The cotton cavalry evokes the uniforms of gendarmes from the early 20th century, creating ruffled skirts with "sharp cut" ruffles in a strict cocoon shape, characteristic of the more romantic Gigli.
Crinkled, washed, and enzymed silk reveals its floatiness in evening dresses, thanks to meticulous selection of fine threads that confer a timeless shine. Silk taffeta supports knuckles, enveloping petals, and harmoniously combines with frayed jute, creating waves of conceptual disparity. Floral silk-linen fil coupé adapts to the body with wrinkled drapes that seem to transport the wearer to another era, evoking icy heroines on cruises down the Nile amidst sunny esoteric dunes, in search of unsolved mysteries.
The unique construction of the inverted jacket, a mysterious sign beloved by the master in the '90s, is reinterpreted as a ruffled bustier that showcases the shoulders. Jute and silk garments, shaped directly on mannequins through druidic rituals, transform into surreal fringes, woven with precious threads that interlace like spells. The hemp tailleur with cutout pyramid inserts is completed with the long buttoned skirt, evoking the elegance of heroines on Nile cruises in search of unsolved mysteries.
Obsession with details is evident in every piece by Romeo Gigli, with silk taffeta linings, often adorned with antique buttons recovered from bygone eras. Arcane surprises hide at the back of cotton and silk satin dresses, where bows turn into sleeves, supported by corset boning.
The "sunset" orange, "Mexico" pink, "dune" white, and "sand" putty blend with the blue of tropical dawns in Egyptian skies, evoking the reflections of ancient pyramids in the oversized earrings that pay homage to Gigli's past glory."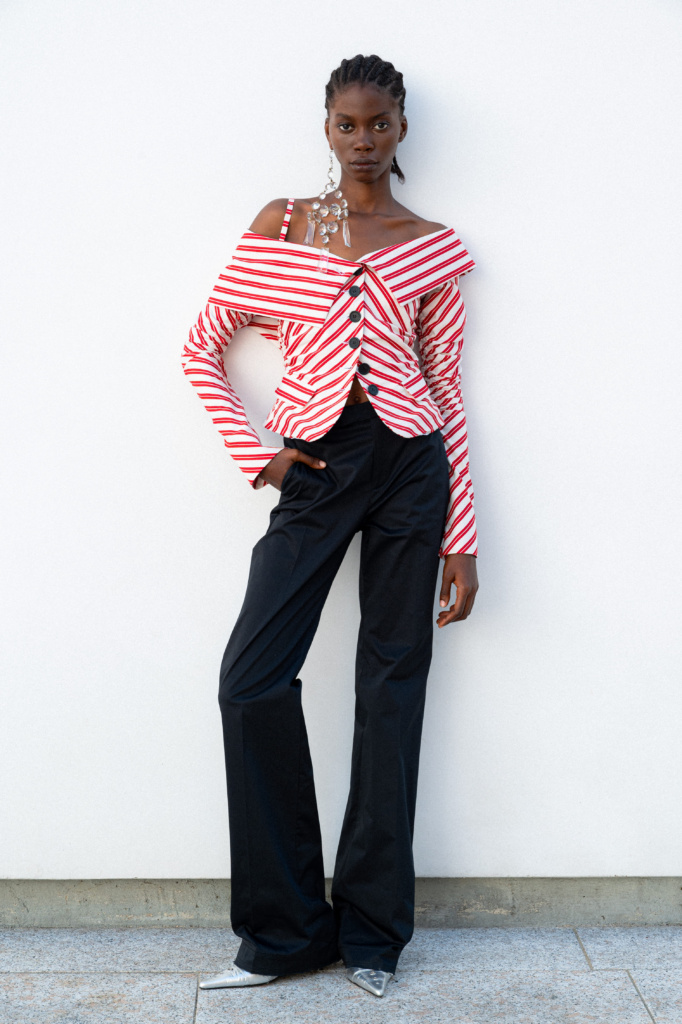 ---
Teresa La Fosca

Public Relations & Press Office
Corso Italia, 47 – 20122 Milan Italy
M +393496679909 – T +390236723607
press@teresalafosca.com
www.romeogigli.it